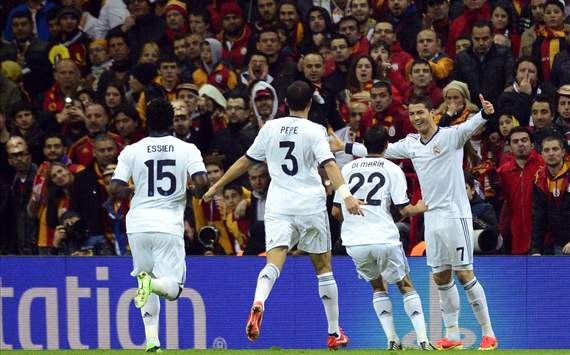 Real Madrid have usurped Manchester United as the richest football club on the planet for the first time since Forbes magazine began their rankings in 2004.

The Red Devils have sat at the top of the list for nine years in a row but Jose Mourinho's men are now worth $135 million more (€103m) at $3.3 billion (€2.429bn), while Sir Alex Ferguson's side sit second in the business magazine's most valuable club list.

Barcelona are perched comfortably in third - $565m (€434m) behind United but $1.274m (€978m) ahead of fourth-placed Arsenal - and rose 99 per cent in value over 12 months.

Bayern Munich fill out the top five having made the Champions League final last season as well as finishing second in the Bundesliga. Their value is sure to rise further in next year's rankings with the added interest of Pep Guardiola as coach, not to mention their triumph in this season's Bundesliga and a potential treble of trophies.


AC Milan are the top-placed Serie A side in sixth and the highest-placed club to be valued below the €1bn mark this year. However, they are also the only club in the top 10 which have gone down in value over the last 12 months.

Chelsea's Champions League-winning season saw maintain their place in the list and boost their value by 18%, not so contrasting to the team below them, Juventus, who saw their value rise by 17% after returning to Scudetto-lifting ways in 2012.

Manchester City rose from 13th to 9th in Forbes' list after winning the Premier League last season and qualifying for the Champions League for the second successive campaign.

An English team not faring as well are Liverpool, who were fourth in April 2008 but find themselves 10th five years later as they continue to suffer from not competing with the European elite.

Outside of the top 10 sit Europa League quarter-finalists Tottenham in 11th, Bundesliga side Schalke in 12th, Champions League semi-finalists Borussia Dortmund in 13th, Italian giants Inter in 14th and Olympique Lyonnais in 15th.

The final five in the list are South America's sole entrants Corinthians in 16th, Walter Mazzarri's Napoli in 17th, German side Hamburg in 18th, Olympique de Marseille (who dropped 18% in value, the biggest drop in the top 20) in 19th and Newcastle United perched 20th.

Interestingly, despite being considered one of the richest clubs in the world, Paris Saint-Germain fail to make the top 20, while La Liga's top-three duo are the only Spanish sides to make the list.

1st
REAL MADRID
Last year: 2nd Value: €2.532bn 76%
2nd
MANCHESTER UTD
Last year: 1st Value: €2.429bn 42%
3rd
BARCELONA
Last year: 3rd Value: €1.995bn 99%
4th
ARSENAL
Last year: 4th Value: €1.017bn 3%
5th
BAYERN MUNICH
Last year: 5th Value: €1.005bn 6%
6th
AC MILAN
Last year: 6th Value: €725m 4%
7th
CHELSEA
Last year: 7th Value: €691m 18%
8th
JUVENTUS
Last year: 9th Value: €533m 17%
9th
MANCHESTER CITY
Last year: 13th Value: €529m 56%
10th
LIVERPOOL
Last year: 8th Value: €500m 5%
Goal.com